Subscribe/register for telebirr
Register for telebirr service & get Br.15 bonus!
You will get 100MB of mobile data bonus when you create your telebirr account via the mobile app.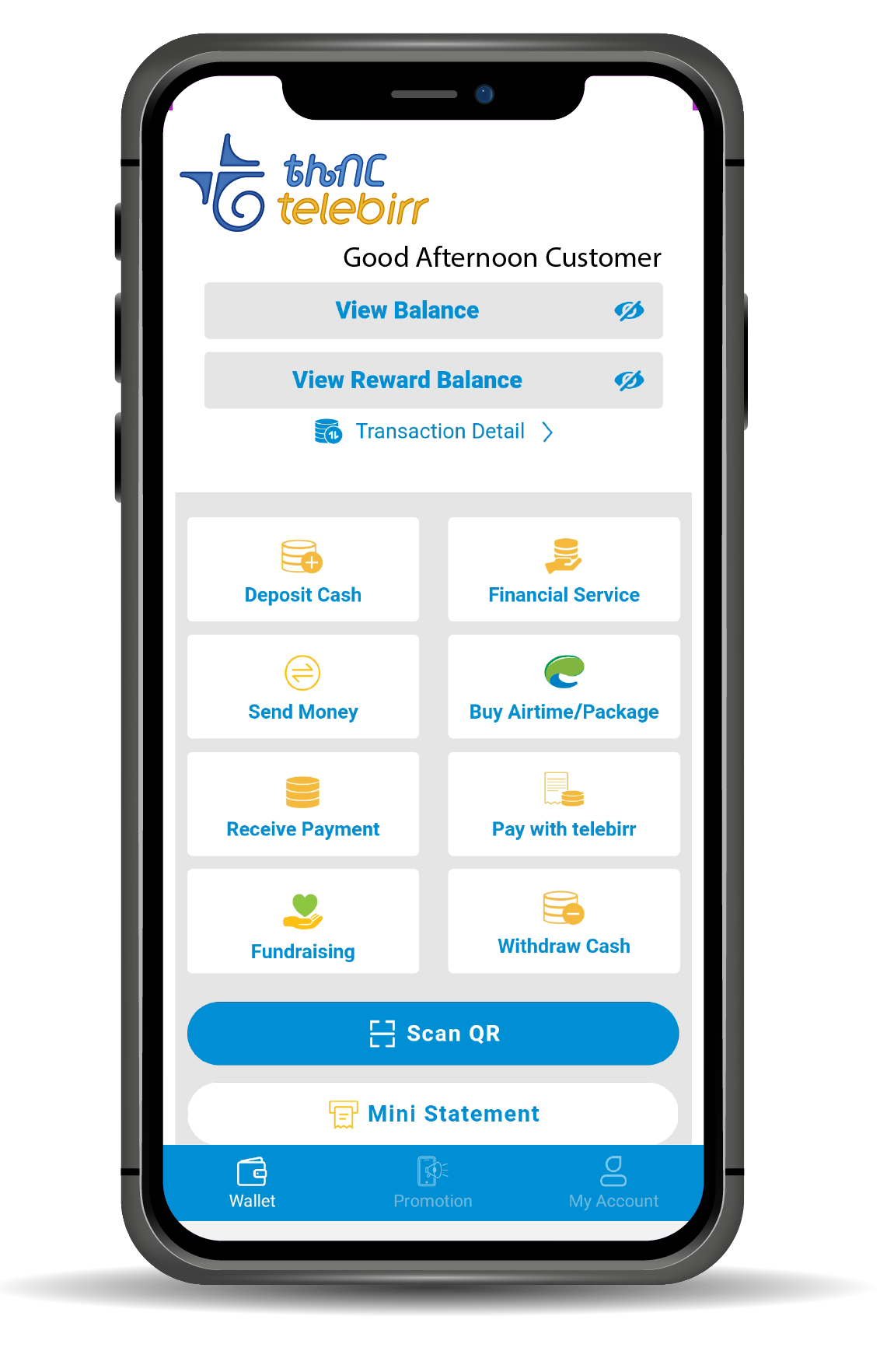 Customer categories and subscription requirements
Level 1 accounts 
It shall be subject to a maximum daily electronic account balance of Ethiopian Birr 5,000 and there shall not be both a daily and monthly transaction limit.
Requirements:
The full name of the applicant/account name
The date of birth of the applicant.
The mobile telephone number of the Applicant
The place of birth of the applicant
Recent photograph of the applicant
The current residential address of the applicant
The applicant shall be introduced by another person who already maintains an account
Level 2 & 3 accounts 
As the previous daily and monthly telebirr transaction limits are lifted, customers can make unlimited electronic transactions
Requirements:
Identity card of the user
The full name of the applicant /account name
The date of birth of the applicant
The mobile telephone number of the applicant
Recent photo of the user applicant
The current residential/business address of the applicant
Business license
MSISDN
SIM serial number and
Address (Town, City, Street, Postal code)
Short code
Organization name
Region
Address (Town, City)
Postal code
Signatory Name
Signatory MSISDN
Signatory Email
Business license
MSISDN
SIM serial number
Address
ID of the legal representative
Original valid license
Registration form
Letter of delegation
ID of delegation
TIN number
The following renewed customer IDs are accepted for individuals telebirr subscription:
Valid kebele ID

Valid passport

Valid taxpayer's ID

Valid Driver's license

Student ID

Employment ID
CUSTOMER TERMS & CONDITIONS FOR REGISTRATION AND USE OF TELEBIRR SERVICE
1.    The Agreement
1.1. The following terms and conditions shall apply to the use of Ethio telecom's telebirr Super-app, and the services released. By using this application, you will be deemed to have read, understood, and accepted these Terms and Conditions.
1.2. Please carefully read these terms and conditions as it is important to inform you the policy, conditions, and responsibility to use the applications and the offers released on it.
2.    Purpose of the agreement
2.1. The purpose of this agreement is to regulate the terms and conditions under which customers of Ethio telecom (telebirr) services to subscribe and use the app and services/offers available it.
3.    Ethio telecom Super App
3.1. It is an application that enables customers to access telebirr services including Payment Services (payment for Goods, Services, Government and Social responsibility), Financial Service (Microloan, Saving and Overdraft), International Remittance Service, local money transfer, deposit and withdraw cash, registration, view your (account, transaction, and personal) information.
4.    Right and obligation of Ethio telecom
4.1. Ethio telecom will provide variety of telebirr services to satisfy customers' needs
4.2. Ethio telecom shall have the right to devise, control and take all necessary measures on the use of the applications and services by the customers
4.3. Ethio telecom reserves the right to modify, vary, amend the super App, its features and these Terms and Conditions at any time. Such changes will be communicated through Ethio telecom website and its social media platforms.
5.    Right and obligation of customers
5.1. Customers can download the App from Play Store or Appstore and Install the App on their handset or tablet.
5.2. Customer shall only use the application for the purpose given and allowed by  Ethio telecom.
5.3. If customers use or abuse the Super App contrary to Ethio telecom's terms and conditions or applicable laws, Ethio telecom may prevent their continual usage of the Super App.
5.4. Customers must not share their password and account details with anyone else.
5.5. Customers must let us know by dialing 127 if they think there has been unauthorized use of their account and/or if their phone is stolen or missing.
5.6. Ethio telecom may require customers to input further information before they can access or launch super App to authenticate that they are registered users of telebirr account.
5.7. Additional means of authentication may be required such as one-time password (OTP), biometrics detection, security questions or secret codes.
5.8. Customers will be requested to accept these terms and conditions and Ethio telecom's privacy policy to enjoy access to several thrilling telebirr products and services on the super App.
6.    Privacy:
6.1. Ethio telecom respects customers data and their privacy.
6.2. However, Ethio telecom shall use customers data to provide and improve its products and services.
7.    Amendments
7.1. Ethio telecom reserves the right to add to or amend these Terms and Conditions from time to time.
7.2. These Terms and Conditions are governed by Ethiopian law.
7.3. These Terms and Conditions are available on www.ethiotelecom.et.
How to register for telebirr
You can make seif-registration for telebirr using your own mobile phone via APP, or USSD, or by visiting your near by Ethio telecom's shop, authorized retail agents or partner bank branches.
Registering with telebirr app
Create a "New Account"
Choose "Quick Create Account" or "Self-Create Account"

Enter "Mobile Number" & click on "Get Code"

Then you will get 6 digit code via SMS




Enter the code in the verification code field


and click "Next"

Then, you will get your personal editable data which holds:

Title

ID Type

ID Card

First, Middle and Last Name

Gender

Date of Birth

Preferred Language

After inserting or checking the personal information, click "Submit"

Then, you will receive default PIN via SMS

Enter the default PIN and press login

To activate the account, change the default PIN by a new one and click "Finish"

Finally, you will receive SMS that your account has successfully been activated.
Registering via USSD short code
Dial *127#

Send 1 to register

Enter invitation code or send # to skip

Again dial *127#
Send zero (0) to activate

Select language

Enter default PIN received from 127 & change to your own PIN.

Then you will be notified that your account has been successfully activated.
Registering at authorized agent or Ethio telecom shop
You can also get registered at authorized agent or Ethio telecom shop by:
Visiting the nearby agent or Ethio telecom shop

Providing active mobile number and proof of identity to the agent
How to invite others to use telebirr
Invite up to 10 persons to subscribe for telebirr and get 300 Flexi units for yourself!
Ho to send invitations
A) Invite via telebirr mobile app
Go to "My Account" section at the bottom right corner of the app home page
Select "Invite Friends"
Enter your friend's Mobile Number and press "send"
B) Invite via USSD
Dial *127#
Select 'Invite a friend' (number 9) on the next page by entering hash symbol #

Insert your friends mobile number

Insert your PIN

Select 'OK' to confirm the entered mobile number
You will get a notification message from telebirr (127).
 Tip: The package bonus is valid for 48 hours
For new subscribers
Provide Br 15 e-float opening balance for new registration
Customers will only use the opening balance to purchase Airtime/package or make P2P
15 Birr incentive will only be provided for active customers.
No incentive for 2nd or 3rd time multiple registrations.
70MB free internet
Provide 70MB data bonus for customers that download and create telebirr account via mobile app.
Push the data bonus to mobile numbers captured during account creation
Enable customers, agents, merchants, and master agents to access telebirr application letter for free.
CUSTOMER TERMS & CONDITIONS FOR REGISTRATION AND USE OF TELEBIRR SERVICE
1. The Agreement
1.1. The following terms and conditions shall apply to the use of Ethio telecom's telebirr Super-app, and the services released. By using this application, you will be deemed to have read, understood, and accepted these Terms and Conditions.
1.2. Please carefully read these terms and conditions as it is important to inform you the policy, conditions, and responsibility to use the applications and the offers released on it.
2. Purpose of the agreement
2.1. The purpose of this agreement is to regulate the terms and conditions under which customers of Ethio telecom (telebirr) services to subscribe and use the app and services/offers available it.
3. Ethio telecom Super App
3.1. It is an application that enables customers to access telebirr services including Payment Services (payment for Goods, Services, Government and Social responsibility), Financial Service (Microloan, Saving and Overdraft), International Remittance Service, local money transfer, deposit and withdraw cash, registration, view your (account, transaction, and personal) information.
4. Right and obligation of Ethio telecom
4.1. Ethio telecom will provide variety of telebirr services to satisfy customers' needs
4.2. Ethio telecom shall have the right to devise, control and take all necessary measures on the use of the applications and services by the customers
4.3. Ethio telecom reserves the right to modify, vary, amend the super App, its features and these Terms and Conditions at any time. Such changes will be communicated through Ethio telecom website and its social media platforms.
5. Right and obligation of customers
5.1. Customers can download the App from Play Store or Appstore and Install the App on their handset or tablet.
5.2. Customer shall only use the application for the purpose given and allowed by Ethio telecom.
5.3. If customers use or abuse the Super App contrary to Ethio telecom's terms and conditions or applicable laws, Ethio telecom may prevent their continual usage of the Super App.
5.4. Customers must not share their password and account details with anyone else.
5.5. Customers must let us know by dialing 127 if they think there has been unauthorized use of their account and/or if their phone is stolen or missing.
5.6. Ethio telecom may require customers to input further information before they can access or launch super App to authenticate that they are registered users of telebirr account.
5.7. Additional means of authentication may be required such as one-time password (OTP), biometrics detection, security questions or secret codes.
5.8. Customers will be requested to accept these terms and conditions and Ethio telecom's privacy policy to enjoy access to several thrilling telebirr products and services on the super App.
6. Privacy:
6.1. Ethio telecom respects customers data and their privacy.
6.2. However, Ethio telecom shall use customers data to provide and improve its products and services.
7. Amendments
7.1. Ethio telecom reserves the right to add to or amend these Terms and Conditions from time to time.
7.2. These Terms and Conditions are governed by Ethiopian law.
7.3. These Terms and Conditions are available on www.ethiotelecom.et.