telebirr International Remittance Service
You can conveniently receive money via your mobile number sent from your family, friends or beloved ones and/or others residing abroad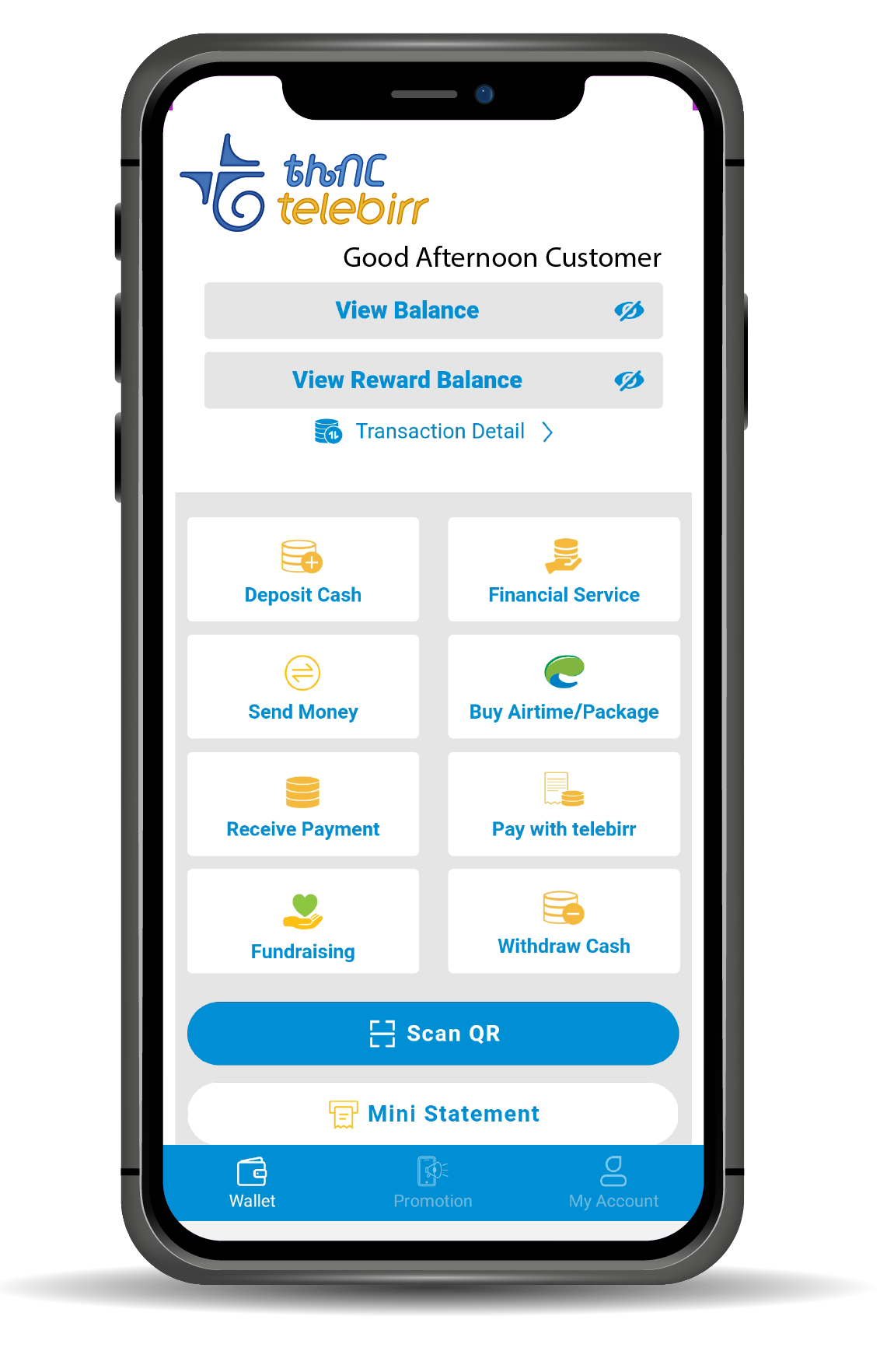 Our International Remittance Partners
Step 1. Go to www.talkremit.com
Sign up(create an account):
Register on the website for free or
download the mobile app
Step 2. Amount & Delivery
Enter the amount of money
Select the country
Choose the transfer method (telebirr)
Step 3. Recipient Details
Enter the recipient's details
Step 4. Confirm and send
Step 1. Go to www.remitly.com
Press Join Now
Sign in (create an account):
Enter your email address, passwordand confirm
Press Join
Step 2. Amount & Delivery
Enter the amount of moneyin the country's currency where you rightly reside
The exchange rate will be displayed into Ethiopian birr
Choose Mobile Moneyas delivery method
Choose telebirr in delivery location and press continue
Step 3. Recipient Details
Enter recipient's nameand the recipient's last name
Enter recipient's phone number
TickSend SMS updates about this transfer to my recipient and press continue
Step 4. Sender Details
Enter your name, last nameand phone number
Enter your street address, City, State, Zip code, Date of birthand press continue
Step 5. Payment Details
Enter card number
Enter expiry dateand CVV number
Enter your name(as it appears on card)
Press Review and Send
Step 6. Confirm and send
Step 1. Go to www.remitly.com
Press Join Now
Sign in (create an account):
Enter your email address, password and confirm
Press Join
Step 2. Amount & Delivery
Enter the amount of money in the country's currency where you rightly reside
The exchange rate will be displayed into Ethiopian birr
Choose Mobile Money as delivery method
Choose telebirr in delivery location and press continue
Step 3. Recipient Details
Enter recipient's name and the recipient's last name
Enter recipient's phone number
Tick Send SMS updates about this transfer to my recipient and press continue
Step 4. Sender Details
Enter your name, last name and phone number
Enter your street address, City, State, Zip code, Date of birth and press continue
Step 5. Payment Details
Enter card number
Enter expiry date and CVV number
Enter your name (as it appears on card)
Press Review and Send
Step 6. Confirm and send
Step 1. Go to www.taptapsend.com
Sign up (create an account):
Register on the website for free or
download the mobile app
Step 2. How to Send Money
Choose the countryyou want to send money to
Insert the amount you want to transfer
Click onNext.
choose the recipient's number from your Contact List or insert it manually by typing their legal name and their details
Pay            
Step 1. Go to www.riamoneytransfer.com
Sign up (create an account):
Register on the website for free or download the mobile app
Step 2. Log in to your Ria account
Enter your transfer details
Select the money destination country
Enter your recipient's payout currency 
Amount to send
Enter the recipient
Enter a promo code if you have one and click Continue
Review the Transfer summary
Send money
Step 1. Go to www.azimo.com
Sign up (create an account):
Register on the website for free or
download the mobile app
Step 2. Amount & Delivery
Enter the amount of money
Select the country
Choose the transfer method (telebirr)
Step 3. Recipient Details
Enter the recipient's details
Step 4. Confirm and send
Slovenia
Spain
Sweden
Switzerland
United Kingdom
Step 1. Go to www.masterremit.com
Sign up (create an account):
Register on the website for free or
download the mobile app
Step 2. Amount & Delivery
Enter the amount of money
Select the country
Choose the transfer method (telebirr)
Step 3. Recipient Details
Enter the recipient's details
Step 4. Confirm and send
Online: Go to https://www.moneytrans.eu/
Sign up (create an account):
Register on the website for free or download the mobile app
Select the country
Select Amount
Validate pricing
Pay
In Person:  Go to a MoneyTrans agent in Europe
Select Country
Select Amount
Validate & pay
First download the mobile App from Google play or App store
Press bank transfer
Add the amount (US dollars)
press continue
Add the recipient's information
select telebirr from money transferring options and enter recipient's service number
chose the recipients city of residence
check the details and press Edit for any changes
Confirm and send
      For more information visit the website: https://www.majority.com/en/
Click to read Terms and Conditions
telebirr International Remittance Terms and Conditions
The promo will be live to June 30,2023
Provides 5% e-Money bonus for remittance recipients who receive directly by their telebirr wallet via telebirr integrated partners.
5% e-Money bonus for remittance recipient who receive via Western Union & deposit the remittance to their telebirr wallet.
Exempt service charge for remittance partners which are directly integrated with telebirr.
The 5% e-Money incentive shall be usable for all transactions.
The service charge exemption period which is given to telebirr integrated remittance partners shall not be applicable for Western Union and other cash pick-up transaction services.