International Airtime Top-Up (IAT)
International Airtime Top Up
Recharge your loved ones' prepaid mobile account from abroad.
You can easily recharge prepaid mobile account of your loved ones in Ethiopia using our International Top-Up service. Just visit our partners' websites listed below, directly send airtime from any corner of the world.
                                              Terms and conditions
Bonuses are only for local consumption. Customer cannot use the bonus for any international services (Call, SMS, and roaming services)
Bonuses are Valid for 15 days
Bonuses are only applicable for prepaid accounts (for hybrid accounts the bonus will be recharged only if the Prepaid account is the default one).
Bonuses received cannot be transferred to another user.
Bonuses will not impact the prevailing validity period of respective denomination.
Bonuses received cannot be used to purchase any package offers.
The bonus received cannot be used to call or send SMS to short numbers.
All existing rules will remain as they are.
Our International Airtime TOP-UP POS & Digital Partners
Telecom Service Bill Payment from abroad
Pay Telecom Service Bill from Abroad via International Airtime Top Up
Are you thinking of settling your loved ones' telecom service monthly bills in Ethiopia just from wherever you currently are?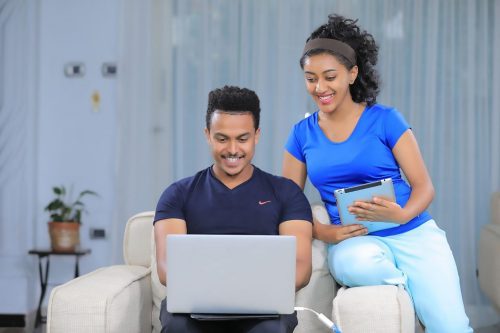 It is so straightforward! Just tell them to visit http://www.remit.et/ and send the amount you want to pay as a bill settlement for your postpaid telecom service monthly bill (Broadband internet, Fixed Line and Postpaid Mobile services).
International Airtime Top-Up/IAT/ Distribution Partnership Requirements
The partnership intends to provide service to Ethiopians anywhere to stay connected to their families and friends in an easy and fast International Airtime Top-Up service.
Ethio telecom is pleased to invite companies engaged in International Top Up service to partner with us in providing Top-Up service to the Ethiopian community residing abroad. As part of the Ethio telecom digitalization strategy of distribution channel, International Airtime Top-Up service is among the key business priorities. We are embarking on this to enable Ethiopians living abroad to recharge the mobile accounts of families and friends in Ethiopia.
The service aims at helping the Ethiopian community abroad to buy local airtime used to top-up friends and family's mobile phones in Ethiopia. Through this partnership, we intend to provide service to Ethiopian's throughout the world. Ethio telecom International Airtime Top Up partnership requirements:
Legal business license specific to IAT to run the business in the country of establishment
Have proven experience for availing the related IAT business in other countries/operators (at least three reference letters)
Detailed company profile (establishment, experience, past performance)
Global reach across continents, number of connected operators, IAT service partners & retailer network. And a list of countries that use a partner's platform.
Local partner responsible for the operations within Ethiopia and with Ethio telecom should provide partnership agreement and letter of authorization to deal on behalf of the International Top-Up service partner. Partners engaged in other business with Ethio telecom may enter into the business based on their merit without a local agent.
Business plan, purchase & sales projection for three years, sales & marketing strategy.
Acceptance of upfront commission and sales incentive set by Ethio telecom
Your confirmation for pre-payment
Can buy airtime a minimum stock set by Ethio telecom in foreign currency (USD).
Can promote the service within the territories via all available channels
Be willing to cooperate with any social, developmental, and business offers via IAT.
A Top-up platform that can integrate to Ethio telecom COMVIVA PRETUPS system, Flexible API integration
A platform that can manage end to end transactions with a rich reporting tool, ability to avail different denominations with convenience.
Various recharge access channels like Kiosk, Web, POS, App, phone to phone, etc.
Availability of customer service (24/7 technical support and account management team for follow up and reporting)
Specify Integration & commercialization timetable
Minimum Contract Period will be one year with the possibility of extension based on performance review
Interested companies can contact us for any clarification with the below address:
Email: Adam.demeke@ethiotelecom.et and InternationalVASTeam@ethiotelecom.et
Ethio telecom, Churchill Road, EYOR Tower, next to Tewodros Square.