Mobile Share Plan
Mobile Share Plan (MSP) is an innovative example of a Controlled Pool, wherein the business is provided the flexibility to allocate desired amounts for each members. The privileged group Admin has complete control and flexibility to distribute the monthly pool of free resource and payment relationship among the member in any manner required. Moreover, if a user is falling short, the Admin can reallocate/reassign the pooled resources to the members who needs it.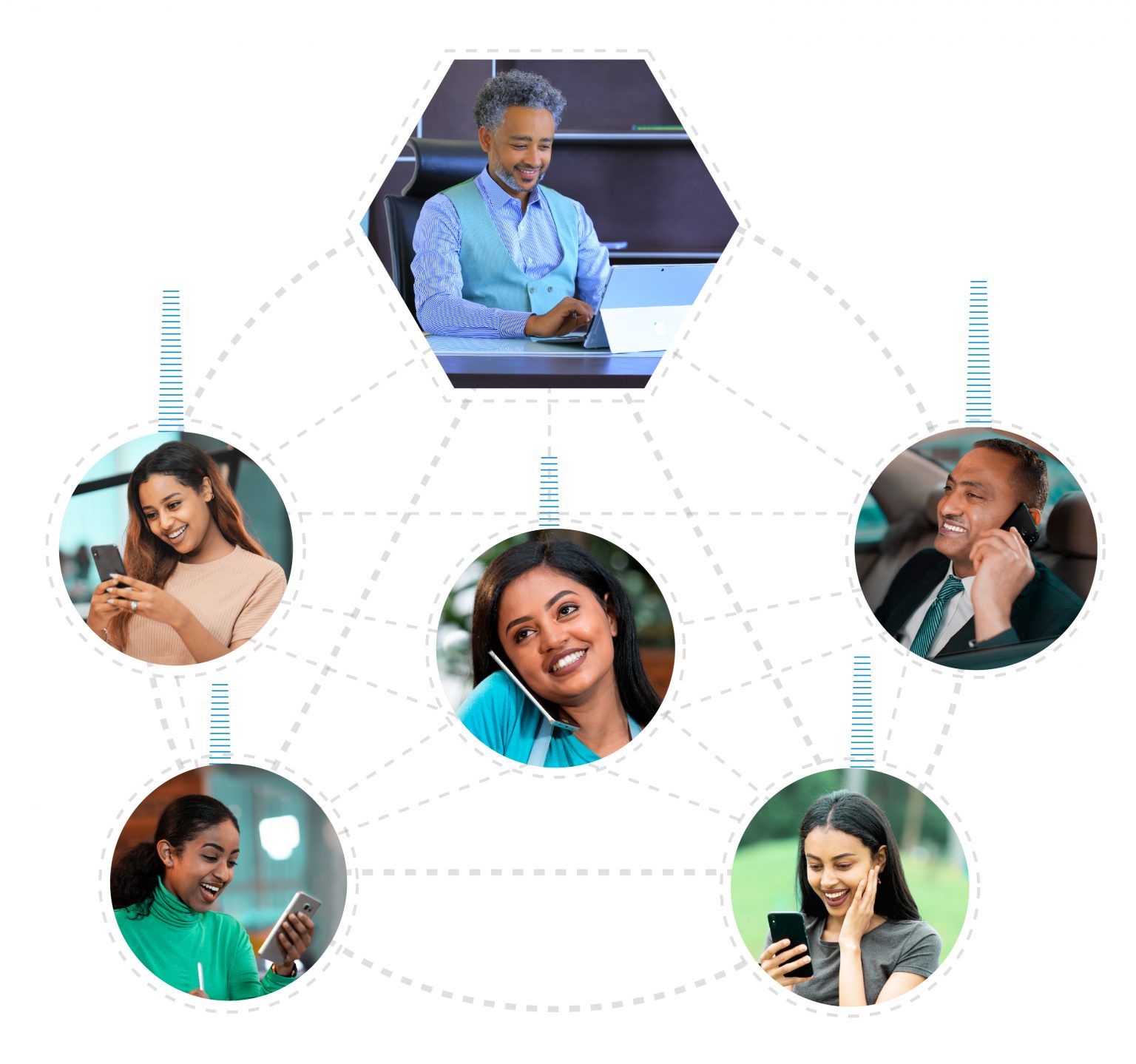 msp

type

MSP 500

MSP

1000

MSP

2500

MSP

5000

MSP

10,000

MSP

20,000

MSP

50,000

MSP

100,000

MSP

500,000

MSP

1,000,000

MSP

2,000,000

FREE CUG

3,200

7000

19,125

45,500

91,000

187,500

Unlimited

Unlimited

Unlimited

Unlimited

Unlimited

FREE Data (GB)

4.4

10

27

58

120

250

630

1,750

6,573

17,500

35,000

FREE SMS

400

800

2,250

5,600

11,700

25,000

49,925

101,988

521,090

1,050,000

2,100,000

FREE Voice

1000

2,200

5,700

12,250

26,000

53,125

133,537

272,670

1,392,528

3,000,000

6,100,000

Maximum Member

4

8

15

35

65

125

200

500

1,500

5,000

10,000

Monthly FEE (ETB)

500

1000

2,500

5,000

10,000

20,000

50,000

100,000

500,000

1,000,000

2,000,000
Allows you to assign a group admin who has a privilege to share free resource to members, add/remove member, set payment relationship for specific or all service for members, reassign free resource of members, change group name for < 50K and assign short code for > MSP 100K subscribers.
Preferential tariff
Use short code to call within the group
Highly discounted offers and CUG
Unused free resource will transfer to the next month
Reassign the free resource to and from members as per the company demand.
There are 20 Mobile Share Plans starting from ETB 500. In addition, customers can notify their telecom budget with maximum number of employees so that Ethio telecom will adjust voice, data, SMS and free CUG minutes that fit their budget.
How to get the service?
Please contact our nearest Ethio telecom Shop.
Click here to read Terms & Conditions
Set payment relationship for specific or all service for members only done via CRM system.
All MSP plans shall be subscribed at point of sales through CRM by providing necessary documents
All Large Enterprise, SME, SOHO & Basic Enterprise customer can subscribe from MSP_500 up to MSP_50,000 offerings.
All Corporate Business customer can subscribe ≥ MSP_50,000 offerings.
One MSP group shall subscribe one offering. If the customer wants to change offerings, the system shall support to change the offering any time, and effective date for the new offering shall be immediately with proration. That means the existing offering will immediately deactivate from the group offering list.
Change offering is free. Offer termination perform only via CRM.
All MSP management shall be manage through CRM & e-CARE.
The customer shall not have allowed to change maximum group member by e-CARE. It shall only change via CRM (point of sales) by referring correspondent offering list and allowed maximum member.
Admin can perform the bellow activity's under there domain:

Share free resource to members
Add/remove member
Reassign free resource of members
Change group name (for ≤MSP_50,000 offering subscribers)
Assign/Change short code to Members/Admins (for ≥MSP_100K offering subscribers)

To use preferential tariff, the below criteria shall be fulfilled:

The customer shall be active MSP group member/ Admin
The MSP group shall subscribe one offerings.
If the customer has free resource, the preferential rate shall be applied after free resource fully utilized/used up.

Active member can use preferential tariff immediately after added as a member, if they didn't attach any resource.
Free resource and preferential tariff didn't apply/include premium and international service.
Members/Admin didn't allow to transfer shared MSP group free resource to others.
Members /Admin didn't allow to convert shared MSP group free resource.
Both prepaid/post/hybrid customer can use the service as a member or Admin in all MSP offering.
MSP_500 up to MSP_50K offering, the Owner shall be only postpaid Large Enterprise, SME, SOHO & Basic Enterprise customer.
MSP_50,000 and above offerings shall be configured /create on postpaid Corporate business customer account number. So to subscribe MSP_50,000 and above the customer shall have corporate account number or subscribe a new one.
MSP_50,000 and above offering the Admin shall be prepaid / Post paid /hybrid subscriber. But the Owner account number shall be postpaid corporate account.
To use (to add as a new member /Admin) this service, the customer service number shall be in active status.
MSP group member cannot be member of more than one MSP group at the same time.
Rollover rule will be applied for one month only, for all type of offers.
Customers can subscribe MSP with their existing account or subscribe for new plan and share it among predefined group members.
The customer shall use CUG within a group.
This service is only for mobile. That means other service type (like ADSL & PSTN) not eligible to use this service both as Admin and member too.
Admin shall be able to allow and prohibit the type of service to be access for specific service number. E.g. some group members can only access the voice service and the other group member can be able to access Internet only and some can access all Voice, internet, CUG and SMS services.
The system shall follow the bellow priority flows:

1st free CUG minute, If the call is within the group CUG will be the priority
2nd personal free resource
3rd group free resource
4th payment relationship, If the customer has payment relation the system shall deduct from donor account. The payment relation payment mode shall be one of the bellow listed category and implement accordingly:

Full pay: all payment shall be paid by donor till the payment relationship canceled /stop
Rate of pay & Part of pay: some part of the usage shall be covered /payed by the donor account. Rate of pay will be implemented if the logged issue is solved & will communicate through email for the implementers

5th personal account, the member will use the preferential tariff only if subscriber doesn't have the free resource
If they exclude from member /MSP group apply existing global rule.

The system shall not support to deactivate member or Admin service number before the removing from member list of active MSP group.
Removed members shall not use any benefit related with MSP service.
One group shall have a maximum of 10 Admin at a time.
If the customer has unpaid bill, it shall not deactivate the group by customer request
For information queries, please call 09-00-74-74-74
For further information and subscription, please visit your nearby Enterprise Service Center!