Mobile Share Plan
Mobile share plan is a Controlled Pool which provides the flexibility to allocate desired amounts to each individual subscription. The company will have complete control and flexibility to distribute the monthly offers & intercompany CUG minutes among the member in any manner required. Moreover, if a user is falling short, the Admin can reallocate the pooled resources to the members who needs it.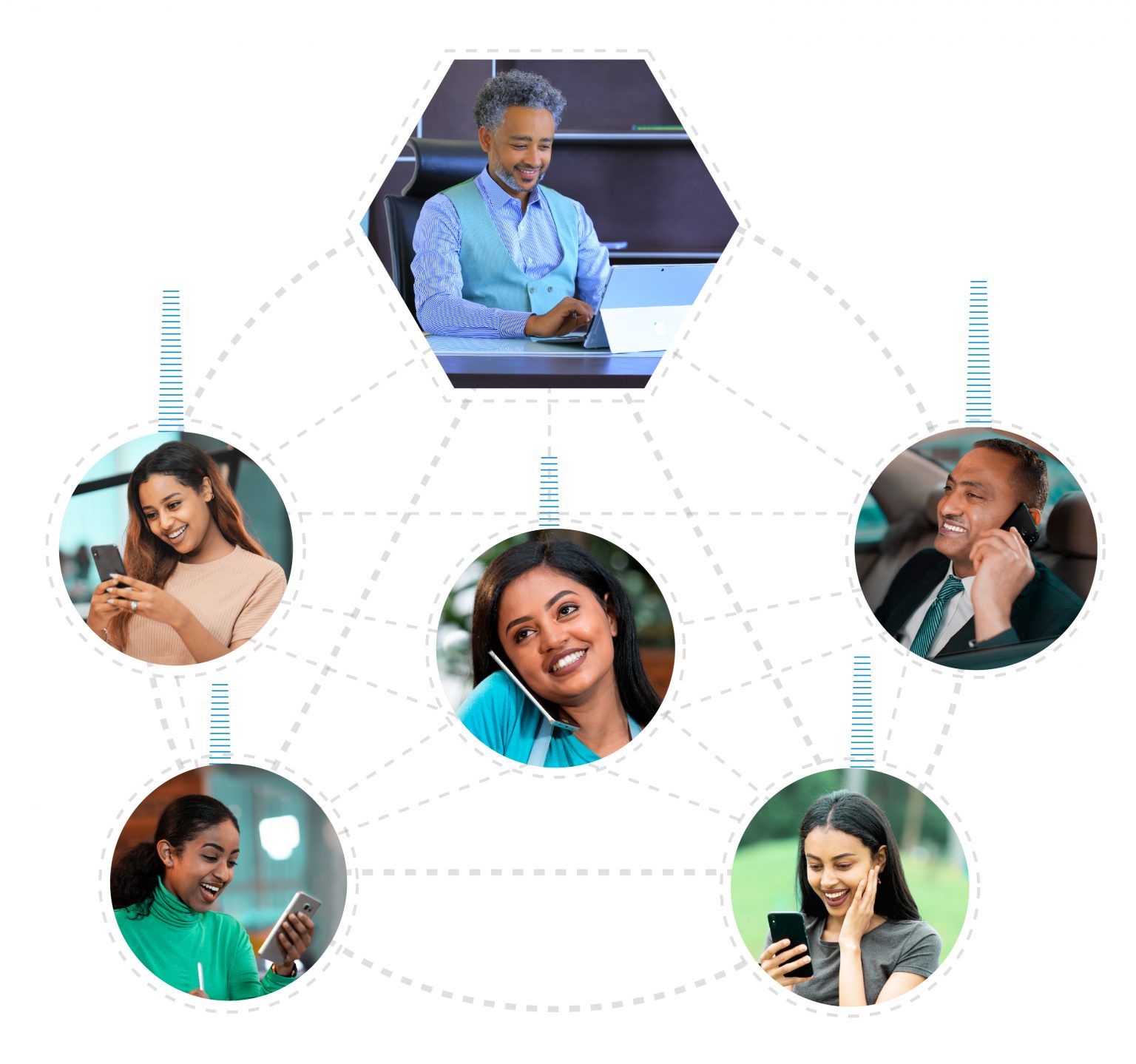 msp

type

MSP 500

MSP

1000

MSP

2500

MSP

5000

MSP

10,000

MSP

20,000

MSP

50,000

MSP

100,000

MSP

500,000

MSP

1,000,000

MSP

2,000,000

FREE CUG

3,200

7000

19,125

45,500

91,000

187,500

Unlimited

Unlimited

Unlimited

Unlimited

Unlimited

FREE Data (GB)

4.4

10

27

58

120

250

630

1,750

6,573

17,500

35,000

FREE SMS

400

800

2,250

5,600

11,700

25,000

49,925

101,988

521,090

1,050,000

2,100,000

FREE Voice

1000

2,200

5,700

12,250

26,000

53,125

133,537

272,670

1,392,528

3,000,000

6,100,000

Maximum Member

4

8

15

35

65

125

200

500

1,500

5,000

10,000

Monthly FEE (ETB)

500

1000

2,500

5,000

10,000

20,000

50,000

100,000

500,000

1,000,000

2,000,000
Benefit and preferential tariff of mobile share plan
By using this service, the customer can get the bellow benefits:
1. End to end management for the customer(Admin) to:
Share free resource to members
Add/remove member
Share account for specific or all service for members
Reset /reassign free resource of members
Give short code for members (Only for ≥MSP_50,000)
2. Short number to call each other (Only for ≥MSP_50,000)
Customer (who subscribe ≥MSP_50,000) can use Short number to call some frequently called numbers from 200000 up to 200030
3. CUG:
Starting from MSP_50,000 Unlimited call between employees
4. Unused free resource will transfer for the next one month
5. Reassign (increase or decrease) the free resource to and from members.
Customer can increase/decrease the assigned members free resource any time they want.
6. Payment relationship:
Customer can set payment relationship (full pay/part of pay) based on the customer interest any time.
How to get the service?
Please contact our nearest Ethio telecom Shop.
Click here to read Terms & Conditions
Only postpaid enterprise customers can use the service.
A group member cannot be member for more than one specific group at a time.
To add more than the allowed maximum number of member is not allowed.
Unused resource will be transferred for the next one month
Customers can subscribe/Upgrade MSP with the existing account or subscribe for new plan and share it among predefined group members.
All tariffs are VAT inclusive
Subscription, upgrade, downgrade, Change name/owner shall be free.