Value Added Services (VAS)
Value Added Services
Subscribe for our variety of Value Added Services of your choice.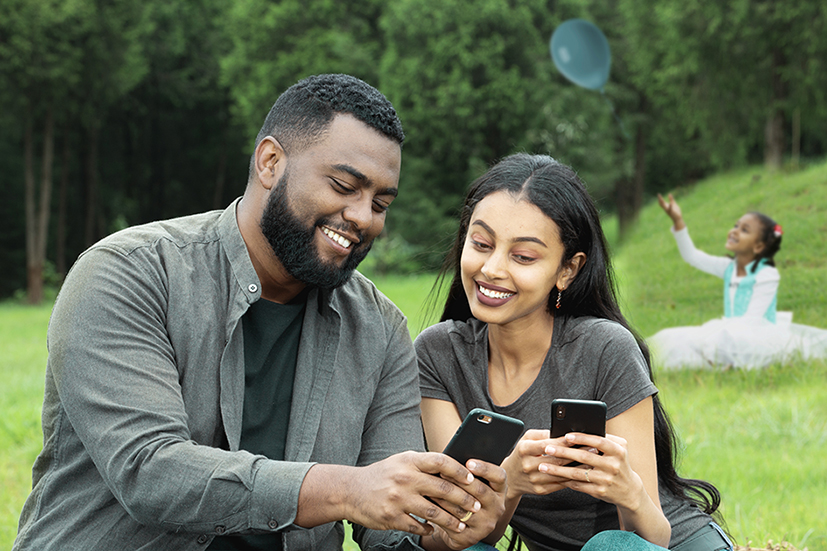 Magic Voice and Background
It is a service enabling customers to change their voice into different voice sounds and add different background music while speaking to their friends or families.
Magic voice allows the customer to change their voice over a phone call. They can sound like a baby, an old man/woman, a cartoon character, or the opposite of themselves.
Background Music Service (BGM) is a fun-based service that allows a mobile caller to add a background music automatically and lets them speak to their friends or families with the selected background music playing.
Current Available Music Voice and BGM contents
Queen Voice
King-Voice
Carton-Voice
Traffic Ambiance
Birthday Ambiance
Football Ambiance
NB: Additional tone contents will be added on demand basis
Terms and conditions
The service is available for all prepaid, postpaid and hybrid mobile users.
The service does not apply for calls made to roaming service subscribers.
The service works for local calls made from mobile to mobile/Fixed/CDMA services.
To use the service customers shall register for the service first. After registration, the caller shall dial "604Receiver Mobile Number". Eg: 60409********
The voice charging shall start after 25 seconds (i.e. there will not be any charging for the 25 seconds within the call). The receivers would not be charged any tariff.
Subscription and un-subscription for the service is free.
User can select the Voice or Background music from pre-recorded voice or music. There is no charge while user browse and select a magic or background from the catalogue when the caller uses the service by selecting Magic voice or Background music.
Life Cycle of the Services
If customer do not have enough balance to pay the daily or weekly or monthly service subscribed after normal service time, subscriber will enter Grace period (7 days) while using the service and system shall wait till, they have the required balance to charge. With this stage they can access the 604 IVR and use the default voice changer.
If the customer does not have balance within the 7 days of the grace period, they will enter the suspension period (60 days) where they cannot use the service at all, and service suspended.
At last, if the customer did not pay within the suspension period, they will be automatically terminated from the service.
If customers fail to pay monthly rental fee, the system will let them use the weekly package to enable user can access the service for 7 days' and minimize the user experience impact. This shall be applied in case the charging is failed for weekly service as well.
Call Signature Service
It is the service in which text message displayed on a mobile screen during a call. It allows the user to create content and share it on callers' phone screen while they receive a call from or make a call to other before it is answered.
It can be used to express oneself, emotions or mood.
How to Subscribe?
Via SMS
Send 1 to 623 for Daily Package
Send 2 to 623 for Weekly Package
Via USSD
Dial *623# and follow the prompt
Service Charge
Subscription and Signature Updating Tariff: - Free
Daily Package Fee = 1 Birr
Weekly Package Fee = 4 Birr
Terms and Conditions
The service is available for mobile postpaid, prepaid and hybrid subscribers which are at active status.
The Call Signature can be provided and displayed for both by calling or called party.
The service is applicable for Local on-net calls and services only.
Customer will get the default call signature text after subscribing to the service but they can change the default by simply send new status content to a 623.
If system charges weekly rental fee failed, system will try to charge daily price to give use 1-day effective time to enable use can use the service for 1 day and minimize the user experience impact. This shall be notified for customers during the service information delivery.
Customer can reject/block to not receive or view call signature service for specific or all numbers. They call as well resume whenever they desired to view.
Customer cannot make sensitive or abusive words as their signature for the service and system will block any setting of such words automatically and aware user not to make such words.
Customer can send HELP to 623 to request all needed service information's of the service.
Customer can unsubscribe the service via SMS and USSD channels.
Beep Call Service
By using beep call service, you can make a missed call even if you have insufficient balance or barred status which you will receive SMS notification through 710 when you successfully send it.  
Terms and Conditions
The service is available for all active with insufficient/zero balance and barred prepaid mobile users. Barred postpaid mobile users can also get the service with free of charge.
All prepaid, postpaid & hybrid mobile customers can receive beep call service.
The service applies for local calls only.
The allowed maximum daily limits for using the services is 8 times per day for a single mobile number.
Mobile Conference Call
Make a group call with up to five people at a time and manage your quick business with people in different locations.
How to make mobile conference calls
Make your first call
Wait for your receiver to reply
Place the current call on hold and tap "add call" to make the second call
Dial the other number and wait for the answer
Choose the option "conference" or "Merge call", now you are in conference with both parties.
To add more people to the conference, repeat step 3 to 5
Tariff
You will be charged with normal voice call tariff for the multiple calls you have made.
Call Me Back Service
Request others to call you back for free whenever your mobile airtime is out of balance.
Insert *807*recipient's mobile number# then press dial key to get the service.
Benefit
It enables you to get connected 24/7 even when your mobile balance is zero.
You can ask as many Call Me Back requests as needed 5 times per day.
Tariff
Call Me Back request is free
Credit Transfer
Send some portion of your mobile airtime to your beloved ones or your own secondary account.
Insert *806*mobile number*amount to be transferred# and press dial key to use the service.
Benefits & features of the service
Allows you to transfer/share airtime for those in need of mobile airtime credits for immediate use.
The transfer is between prepaid mobile accounts only
The receiver should be in an active state to successfully receive a transferred balance
A person can transfer a minimum of ETB 1 and maximum of ETB 1,000.
Price per each successful transfer ETB 0.20
CRBT
CRBT with NEW features
CRBT has been redesigned with new and exciting features considering your needs. Subscribe and entertain both yourself and your callers.
Service Types
♪ Normal CRBT (for your callers)
♪ Calling CRBT (when you make call)
To subscribe to the service:
Benefits & features of the service
Gives you a unique identity & turn the wait for an answer into an entertaining, social, and informative experience
Different tones for your loved ones
You can also assign CRBTs for a specific time segment, such as morning CRBT, Holyday CRBT, Valentine's Day CRBT, etc.
Traditional, Modern & religious tunes.
You can send tones as a gift for others and copy the one you liked by listening it from others
Service fee
Monthly Rent: 5 Birr
Tone Purchase: 5 Birr
To choose tones & manage the service
Commands for Basic Operations to be sent via 822 SMS
Item no.

Operation

Normal CRBT

Calling CRBT

1

Subscribe for the service

A

A1

2

To purchase a CRBT

C CRBT Code

C CRBT Code

3

To Set a CRBT

SN Tone code

SC Tone code

4

Express Copy (to copy CRBTs you heard from other users)

Dial the person back and press (*) before they answer

*

5

To send CRBT gift for your loved ones

G CRBT code Receiver's phone number

e.g: G 123456 09XXXXXXXX

6

Gift accept

ga Code no

7

Gift reject

gr Code no

8

Help

H

9

Querying CRBT from subscriber personal library

P

10

Query personal settings

QC

11

To delete CRBT setting

DC Tone code

DC1 Tone code

12

Deactivating the service temporarily

DAC

DAC1

13

Activating the service

AC

AC1

 

Unsubscribe the service

U

U1
Terms and Conditions
All prepaid, postpaid & hybrid customer can subscribe for the service at any time.
Customers can register both for normal and calling CRBT service at any time.
Customers can buy CRBT by calling 822, dialing *822# and visiting https://www.crbt.et
CRBT customers can send tone to non-CRBT customer on the condition of paying the monthly rental fee during the presented time. The non-CRBT customer informed by SMS to be subscribed for the service within one hour and after registration it can get the presented tone.
CRBT Customers can also send tone as a gift to CRBT single user or to multiple users at a time paying for the tone.
CRBT customers can make other users' tone during a call by calling back to the phone they heard the music and press star (*) before the call is answered, then send the identification number they received through SMS to 822. But the main customer can turn off the coping permission.·         The default tone cannot be copied, only CRBTs that are bought and used by the user can be copied by another user.
The service will be activated for the customer with one free default tone and users can set new dedicated CRBTs.
Customers will have their own personal library where they can store their purchased CRBTs (Up to 20 tones) and can delete any tones.
Customers can deactivate for temporary & reactivate anytime without losing their purchased CRBT tones in their personal library.
Customers will enter grace state in which only default tone heard if they do not have sufficient balance in every month and will be in suspension state if the monthly rent is not paid after 7 days. Cancellation will be followed if the customer fails to pay the monthly rent for 15 days.  
Customers can cancel the service at any time as per their request and they will be treated as new subscribers for returning to subscription.
Voice Mail Service
The service helps you get important messages if you are out of reach, not in a suitable position to answer, your phone is off, out of network coverage or when your phone is busy.
| | |
| --- | --- |
| Service | Fee |
| Subscription/Unsubscription | Free |
| Rental | Free |
| Retrieval | Free |
| Notification SMS from 824 | Free |
| Announcements during voice message retrieval | Free |
Reachability Alert (RA)
The service notifies you via SMS when the person you have been trying to call was unreachable – "out of coverage or phone turned/switched off" becomes available to the network.
How to use the service:
The service is already activated by default to all our mobile subscribers and can be activated or deactivated by using SMS and USSD channels.
Activation & deactivation
To deactivate send D1 to 824
To re-activate send A1 to 824
Benefits
No more unnecessary calls when the person you want to talk to is unreachable
Let you know when to attempt the failed calls
Increase productive by notifying business men when the person you have been calling is available.
Service Tariff
All our mobile subscribers can get the service without any subscription and monthly fee.
SMS notification is free.
Missed Call Notification(MCN)
The service will notify you by SMS about who called you while your phone was switched off or out of reach.
Using the service, you will still receive all your missed calls even if you are out of service area coverage or when your mobile runs out of battery.
Benefits
You will get notification for all your missed calls
Helps you to receive SMS notification which enables you to know who called you while your phone was switched off or when you were out of network coverage.
Service Tariff
The service is FREE for all mobile subscribers.
How to use the service
By default, this service is activated for all our mobile customers
Deactivation and Reactivation
To deactivate send D2 to 824.
To activate send A2 to 824.
Call Waiting Service
Description
Benefit
You will not miss important calls while you are handling other calls.
You can activate or deactivate Call Waiting feature from your phone.
Tariff
The service is free and can be activated on most mobile phones
Call Divert /Call Forward
This service allows you to forward your mobile incoming calls to another phone.
You can activate and deactivate the feature using your telephone.
You can forward your call (or divert calls) under the following condition:
                    - If busy
                    - If out of reach
                    - If not answered
                    - For all calls
Benefit
Useful when user is out of reach
User can not miss important calls and can always get into contact with anybody
Tariff
Activation fee: Free
Usage fee:
Peak hour : 0.50 birr/min (VAT inclusive)
Off peak hour: 0.35 birr/min (VAT Inclusive)
Vanity Numbers
Service Description

Are easy to remember and easy to dial. These numbers are classified into four categories; Platinum, Gold, Silver and Bronze.

Tariff

| | | |
| --- | --- | --- |
| No | Classification | Tariff |
| 1 | Platinum | 3,500 Birr |
| 2 | Gold | 2,000 Birr |
| 3 | Silver | 1,000 Birr |
| 4 | Bronze | 500 Birr |

            How to Subscribe

At the nearby Ethio shops; as both residential & enterprise.
Keep My Number Service
Whenever you have a plan to go abroad or want to keep your mobile or fixed line number without using it for a long period of time, you can subscribe for KEEP MY NUMBER SERVICE and reuse your phone number.
You can keep your number for up to 5 years.
Service Charge Br. 109 per year
To get the service please visit the nearest Ethio telecom shop.