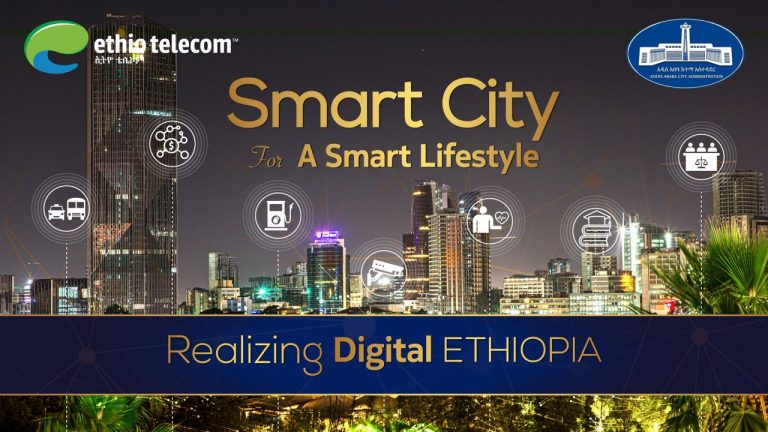 As part of its commitment to realizing its vision and mission as well as its three years LEAD growth strategy, Ethio telecom is extensively engaged in modernizing and enhancing the day-to-day business activities of the customers by being a leading digital solution provider beyond its connectivity services. In line with this aspiration, Ethio telecom today has signed a strategic memorandum of understanding with Addis Ababa City Administration for realizing Addis Ababa's smart city project through the deployment of wide area network.
According to the agreement, Ethio telecom will avail a wide area network (SD-WAN Network) infrastructure to easily interconnect different bureaus and service rendering institutions of the city with the main data center, connect 11 Sub-city offices, 120 Woredas and 44 different bureaus of Addis Ababa city Administration as well as to interconnect the city Administration with the central data through super speed and high bandwidth optical services (Lamda Connectivity) ranging from 1GB to 100GB capacities.
The project is believed to be one of the mega projects being undertaken by the City Administration in cooperation with Ethio telecom to realize the Addis Ababa's Smart City program. The project will utilize the state of the art information communication technologies, thereby adding up great value to the ever flourishing of Addis Ababa which is the headquarter of Africa and the seat of several international Organizations.
Furthermore, the project will highly contribute to make Addis Ababa a technology hub that could modernize the lifestyle of its residents by addressing the ever-growing technology demands and data security concerns of the city administration, interconnecting the sub-cities and woredas with mission critical technology and real time services. The technologies to be deployed are believed to be the latest operating system, of high quality, reliable and efficient that can enable to provide quality services to the residents of the city and maximize the performance capacity and efficiency of service provision.
In a recent memory, our company signed an agreement with the Administration of Adama City and commenced the implementation of the Adama's Smart City Project. Likewise, our company will also persistently continue to make digital Ethiopia a reality by availing technology and digital solutions to similar institutions engaged in many fields, including the Addis Ababa Smart City project through revolutionizing service provision and undertaking several activities that would ease the living standards of our society.
                                  June 6, 2023
                                   Ethio telecom