You can quickly send money to your family, friends or beloved ones anywhere whether they are users or non-users of telebirr service living in any corner of the country.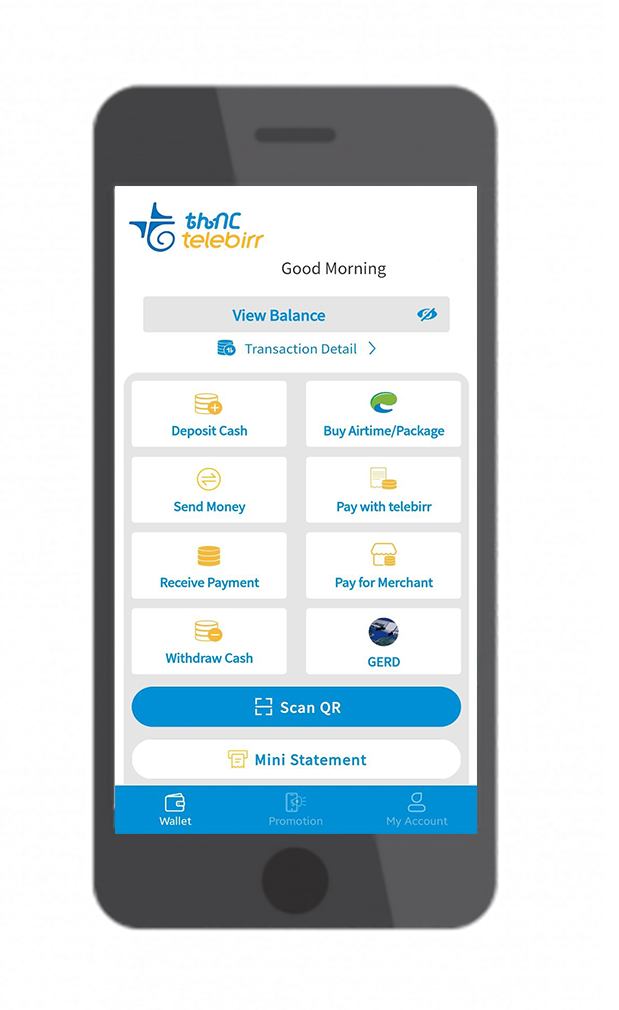 Dial *127# Or login to telebirr mobile app
Select 'Send Money' from the menu

Enter/Select recipient's phone number

Enter amount you want to send

Enter PIN

Confirm the amount you want to send and to whom by pressing OK/Send Money.

You will get confirmation message instantly for the transaction.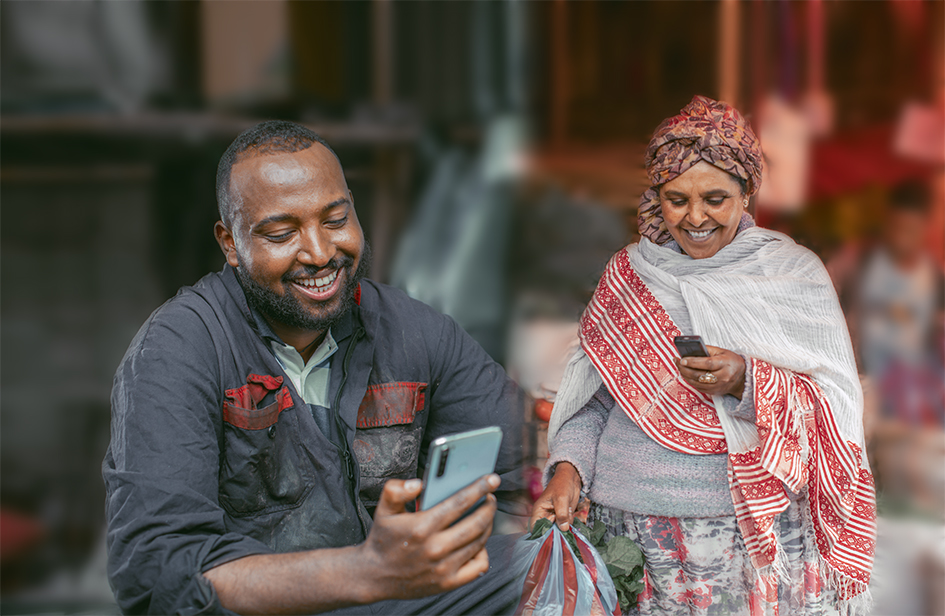 The steps of money transfer from
banks to telebirr
account
Dashen Bank to telebirr account
Internet Banking
Mobile Application
Login into Amole App
Transfers
To telebirr
Debit source account to transfer
Fetch
Enter the mobile number
Enter Amount
Transfer
USSD
Dial *996# & select No. 1 to login
Enter PIN & select No. 2 (transfers)
Select number 8 (telebirr transfer)
Select debit account & press send
Enter Amount
Enter number 1 (submit payment) & press send
Abay Bank to telebirr account
Dial *812#
Enter your pin code
Enter No.7 to select Transfer to telebirr
Enter the receiver telebirr mobile number
Enter the amount of money
Select your bank account to be deducted
Enter 1 to confirm
NIB International Bank to telebirr account
Insert user ID,Pin & press login
Select account
Select telebirr
Enter phone number amount & Press transfer
Press done
Oromia Bank to telebirr account
Click online Banking
Enter user ID
Enter password and login
select Transfer from Account to telebirr under Fund Transfer menu
follow the instructions and confirm
Website Address: https://orointbank.net/en/
Wegagen Bank to telebirr account
Dial *866#
Enter PIN
Enter 8 (transfer to telebirr wallet)
Enter amount
Select account number
Enter receiver's telebirr account number & press send
Press 1 to confirm
Enat Bank to telebirr account
Mobile App
Open Enat Mobile App & click "LOGIN"
Enter PIN & click "submit"
Select "Transaction"
Click "Transfer to telebirr"
Select an account - Enter Mobile Number - Enter Amount - Enter Particulars - Click "Submit"
Click Confirm
Finally you will receive a confirmation displaying a phone & transaction reference number
USSD
Dial *845#
Enter your PIN no
Enter No. 3 to select "Money Transfer"
Enter No. 5 to select "Transfer to telebirr"
Select "Account to be Debited"
Enter "telebirr mobile number"
Enter "amount" to be transferred
Enter "Remarks"
Enter to 1 select "YES" to confirm, & you will get SMS notification.
Hibret Bank to telebirr account
USSD
Dial *811#
Enter PIN
Enter No. 4 to select Funds Transfer
Select Account Number
Enter No. 3 to select External Transfer
Enter No. 1 to select telebirr mobile money
Write your telebirr mobile number
Enter the Amount
Enter a remark
Enter PIN
Bank of Abyssinia to telebirr account
Mobile App
Login to BoA mobile
On the side menu click pay or transfer
Click the button load to telebirr
If you want to load money to your mobile number click the switch button ON
Choose the debit account number
If you want to load money to your loved ones, type in the number
Enter the amount to be loaded to telebirr
Click continue
Click load
Awash Bank to telebirr account
Mobile App
Open Awash wallet App and Enter your PIN no.
Select telebirr button
Select "own number" and enter your telebirr service account or Select "other account" and enter telebirr service number
Enter "Amount"
Select "Debit Account"
Touch "Submit" button
You will receive SMS notification
USSD
Dial *901#
Enter your 4-digit PIN
Enter No. 3 to select "Money Transfer"
Enter No. 3 to select "Transfer to telebirr"
Select No. 1 for your OWN ACCOUNT transfer or Select no. 2 for OTHER ACCOUNT
Select DEBIT ACCOUNT
Enter AMOUNT to transfer
Enter description (Optional)
Enter No. 1 to select YES for confirmation & you will get SMS notification
Berhan Bank to telebirr account
USSD
Dial *881#
Enter the 4-digit security code
Enter No. 4 to select  "telebirr service"
Enter No. 1 to select "Transfer to telebirr"
Select source " Amount"
Select "receiver mobile number"
Enter "the amount of money"
Enter the 6 digit "security code"
Confirmation pop-up will show up
Zemen Bank to telebirr account
Internet Banking
Login to zemenbank.com.et/zemenib/#/ 
Press payments & transfers
Select bill payments & telebirr
Select telebirr from the group
Enter recipient number, amount & finish the remaining steps
Mobile App
Enter user name & click proceed
Enter passphrase & click login
Select payments
From the category select telebirr & click OK
Enter recipient service number, amount & click save & complete the transaction